Department of Pedodontics
Department has well equipped undergraduate section.
Learning modalities include didactic courses, seminars, continuing dental education courses, and clinical exposure.
Undergraduate students are expected to complete bench exercises on typodonts and dental models. On successful completion of the exercise, students are permitted to treat patients under the guidance of the faculty.
Undergraduate students are trained in examination, assessing growth, acquiring behaviour management skills, diagnosis, caries prevention and treatment.
The students are evaluated during their clinical posting by conducting formative, interim and summative assessments.
All undergraduate students participate in school dental health camps.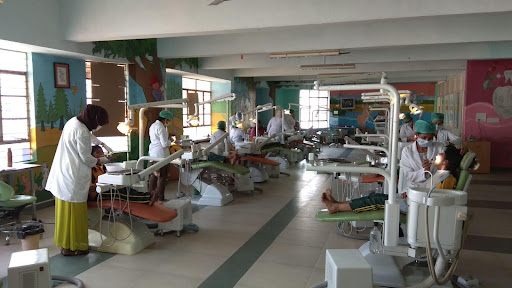 Post graduate programme starts with bench work or preclinical exercises listed by the RGUHS during the first 6 months.
Daily seminar presentation on various topics pertaining to Pediatric Dentisty and allied sciences.
Journal club presentation, discussing current literatures and articles published.
Unique and special cases are presented and treatment plan is discussed.
Clinical training encompasses application of skills and knowledge for comprehensive treatment of children.
The post graduate students are trained for complete oral rehabilitations under General Anaesthesia and Conscious Sedation with 1 month rotational hospital posting.
The students are trained in the management of children with special health care needs using pharmacological and non-pharmacological behaviour management and modification techniques.
Periodic school dental health camps and school dental health education programs are conducted. Comprehensive dental treatments are provided to children referred from the camps.
Post graduate students participate in research activities and contribute actively in conferences and publish their work in National and International Journals.